Get a Christmas Card Featuring Your Favorite Dog?
I always make sure that my dogs have a present under the Christmas tree every year, but I didn't think about popping them on our Christmas card until recent years.
If your dog is camera shy then you can check out some of the great dog Christmas cards I've compiled for you here – big dogs, little dogs, shy dogs and extroverts I've included a wide range for you here.
I will be constantly updating this page to include new breeds, but if you're after a specific type of dog Christmas card please add a request in the comments and I'll try to accommodate you.
Beagle Christmas Cards
I've never owned a beagle, but they do look cute at times especially when they're looking at you with their eager brown eyes! I particularly like the beagle pup asleep in the Christmas stocking – that's my pick for a gorgeous beagle Christmas card!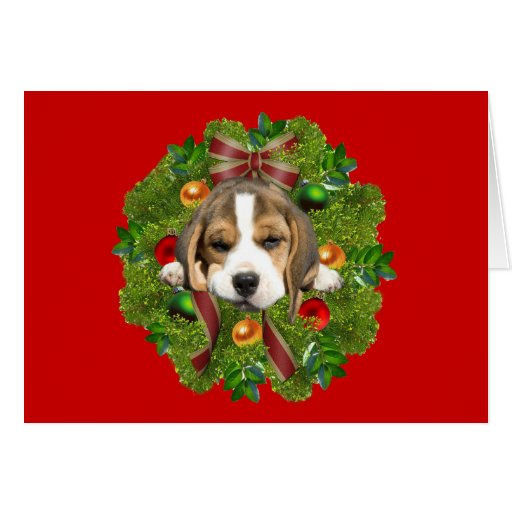 Beagle in a Wreath Christmas Card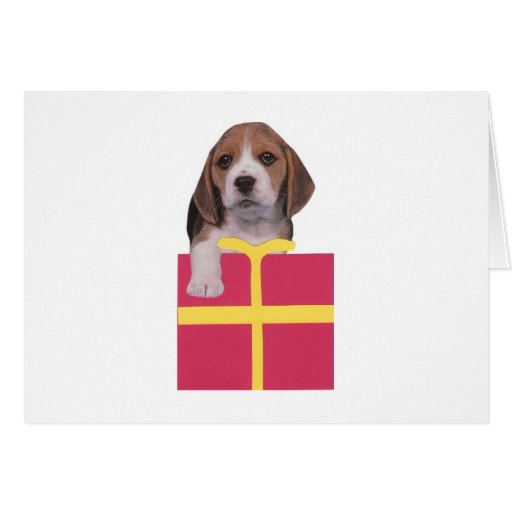 Beagle in a Gift Box Greeting Card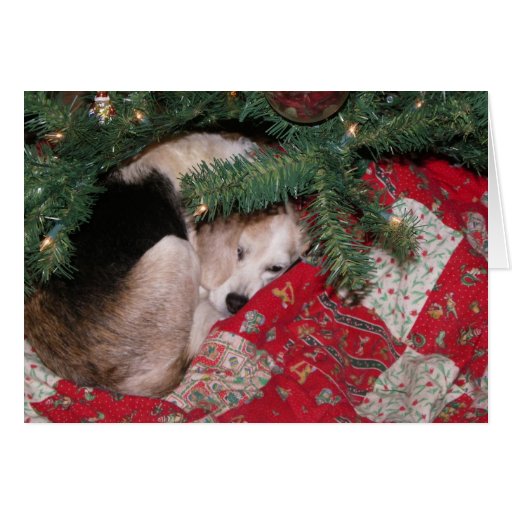 Sleepy Christmas Beagle Greeting Card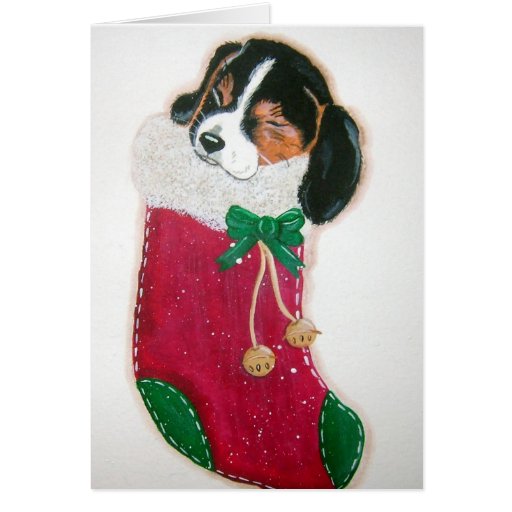 Beagle Pup in Stocking Christmas Card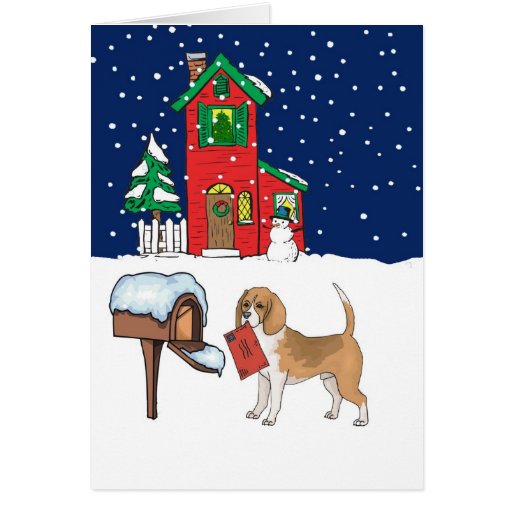 Beagle Christmas Mail Card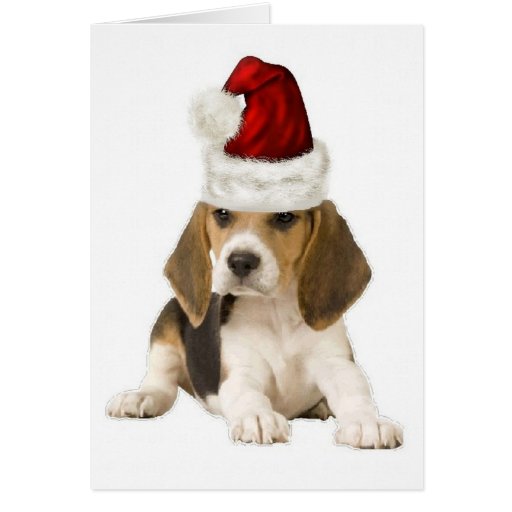 Gorgeous Beagle Christmas Card

Boston Terrier Christmas Cards
A Very Cheeky Dog Indeed!
I met my first Boston Terrier only a few years ago when our Amstaff first came to us and we went to puppy school. A little Boston Terrier pup came over and proceeded to try and show our little man that he was the boss – Roman just looked at him and back at us as though to say – is he serious?
They enjoyed playing together quite a bit and I have to say that Max (the Boston Terrier) acted as cheeky as he looked which is apparently one of their traits. Unfortunately they moved away so we couldn't keep the dogs friendship up, but I can totally understand how once you've owned one Boston Terrier you can be completely hooked!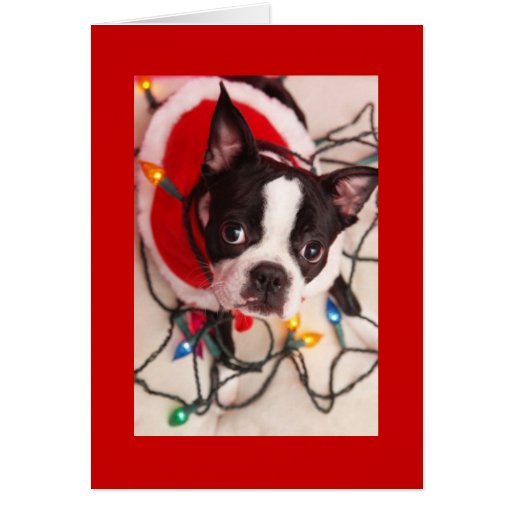 Boston Terrier in Christmas Lights Greeting Card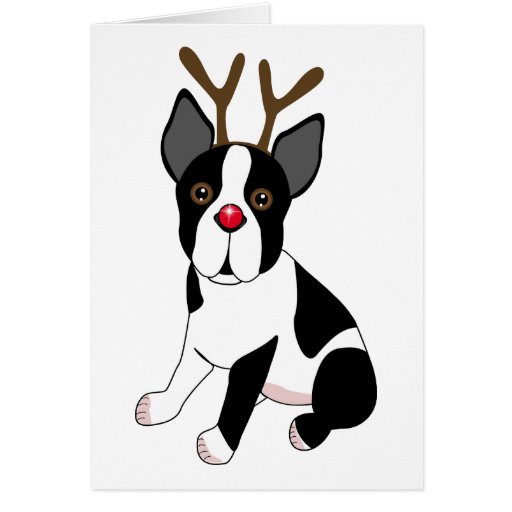 Boston Terrier Reindeer Christmas Card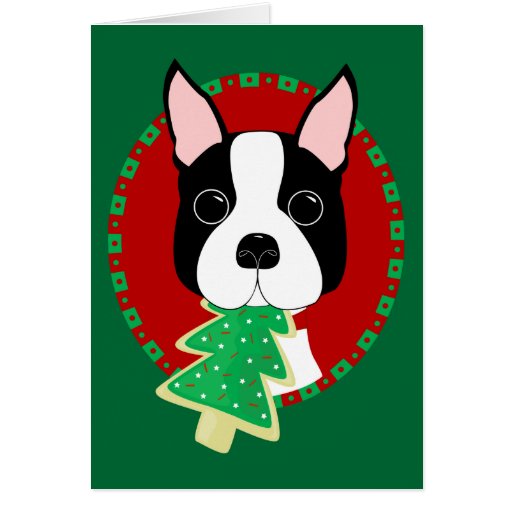 Cute Boston Terrier Christmas Card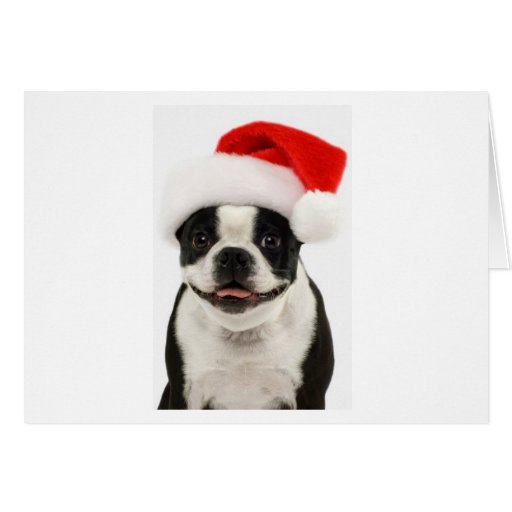 Boston Terrier Santa Christmas Card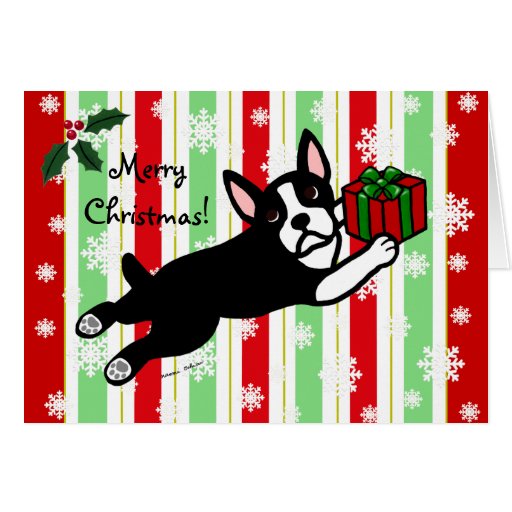 Cartoon Boston Terrier Christmas Card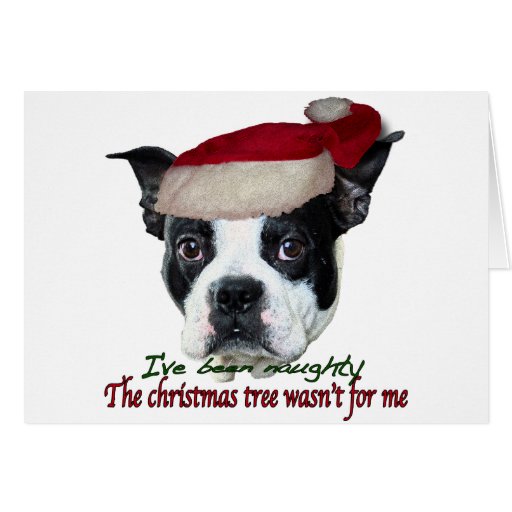 Naughty Boston Terrier! Christmas Card

I think any of these Christmas cards would be great, but the first one with the dog tangled in lights really seems like something Max would've done so if you're unsure and you want another opinion – pick that card!
Boxer Christmas Cards
Boxers are pretty cool dogs too (I'll confess there's not many dogs I don't fall for though!), but I think boxer pups are even cuter! I can still remember over 20 years ago a girl I worked with came to show off her new boxer pup and I felt like running away with it – he was so cute! I don't know much about the boxer's personality so I'm not sure which Christmas card is the best one to send, but I particularly like the cartoon boxer taking a letter to the mail box.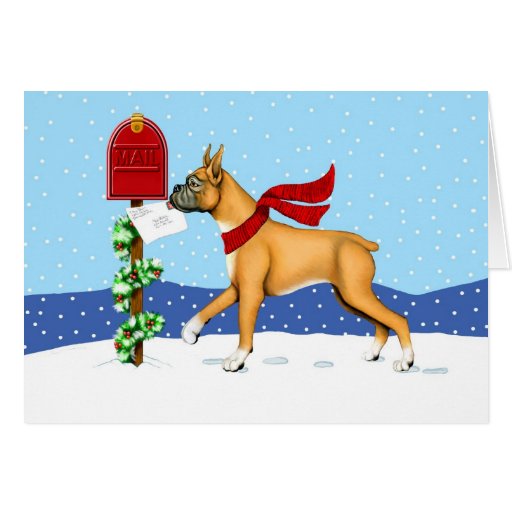 Boxer Christmas Mail Greeting Card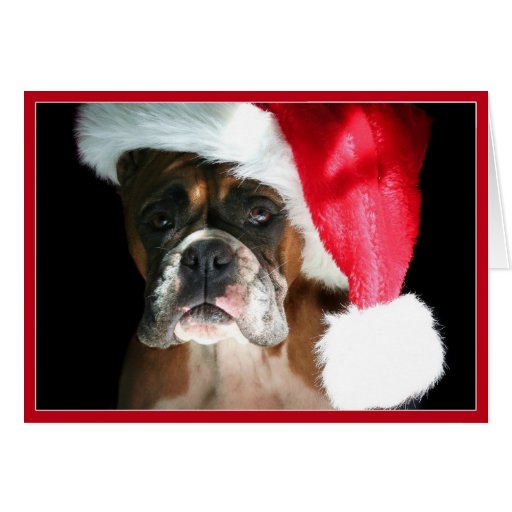 Christmas Boxer Dog Greeting Card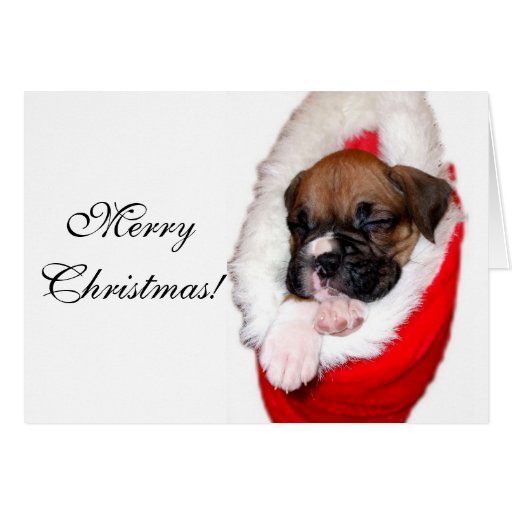 Merry Christmas Boxer Puppy Greeting Card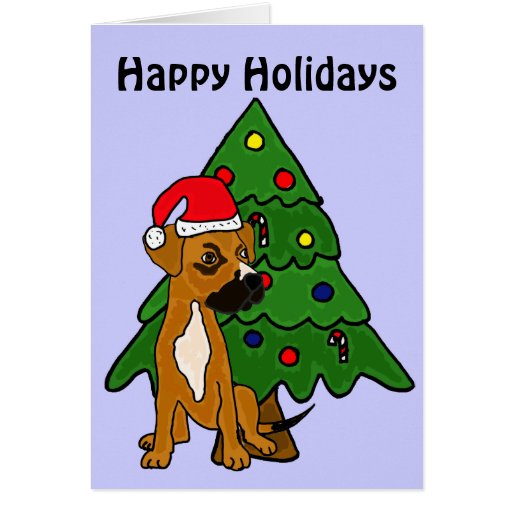 Boxer Puppy Happy Holidays Card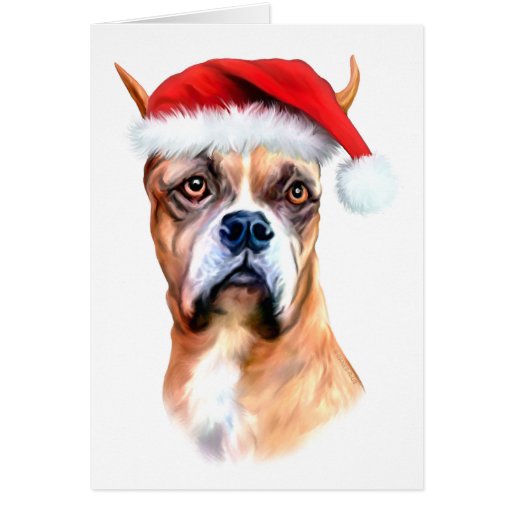 Santa Hat Boxer Christmas Card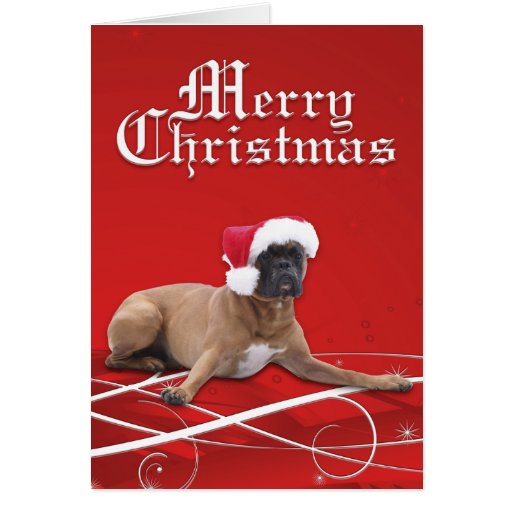 Gorgeous Boxer Christmas Greeting Card

Chihuahua Christmas Cards
Merry Christmas Chihuahua!
First there was Beverley Hills Chihuahua and then I brought you Merry Christmas Chihuahua …….. in card form that is, enjoy –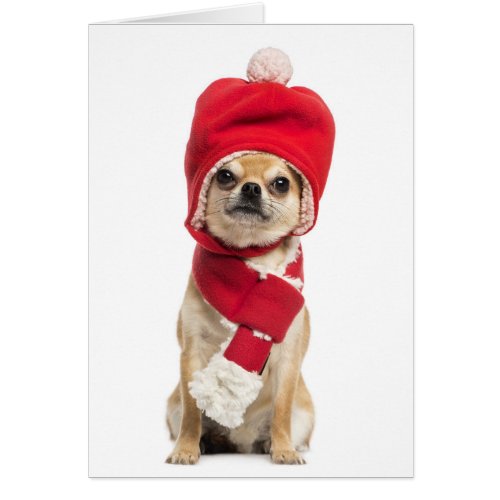 Chihuahua in Christmas Hat & Scarf Card

Chihuahua Christmas Bauble Greeting Card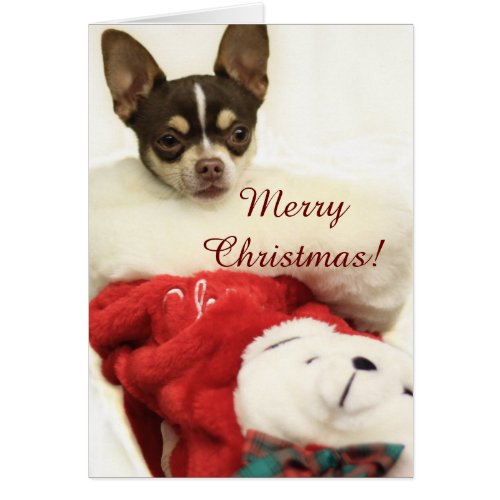 Merry Christmas Chihuahua Greeting Card

Cute Christmas Chihuahua Santa Card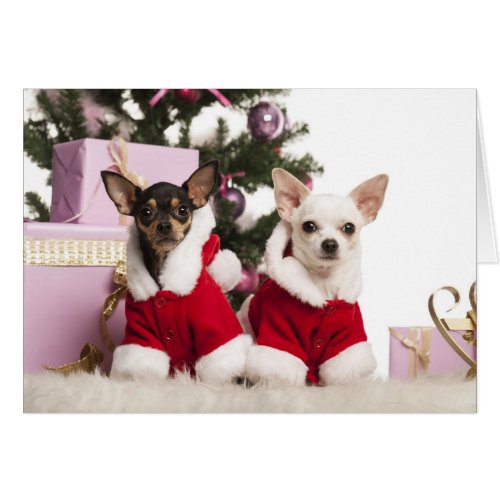 Chihuahua Pair in Santa Suits Card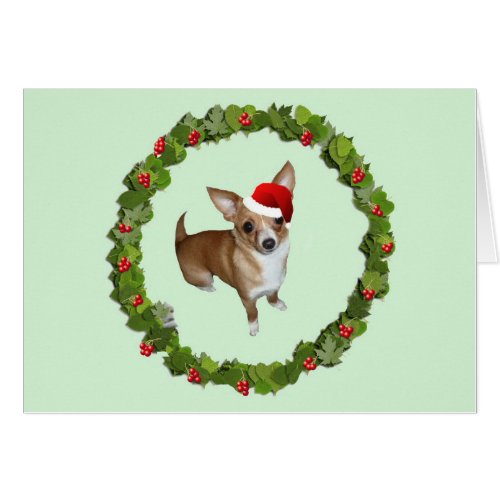 Chihuahua Santa Greeting Card

Dachshund Christmas Cards
There are some gorgeous Dachshund Christmas cards around so I've made them their own little page right here –
Dalmatian Christmas Cards
There are some simply beautiful Dalmatian Christmas cards for you to tofall in love with on this post –
English Bulldog Christmas Cards
The English Bulldog is one of those dogs that I always think of as so ugly they're beautiful – you know it makes sense! I love images of this dog and it was really hard to only have a few here as I could easily have filled a whole website with English bulldog cards for you!
Bulldog Christmas Greeting Card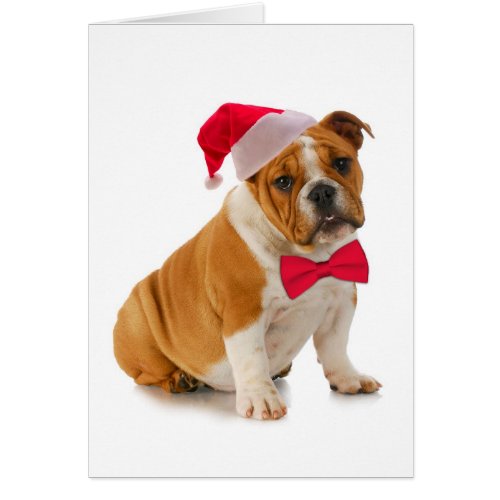 Santa Bulldog Christmas Card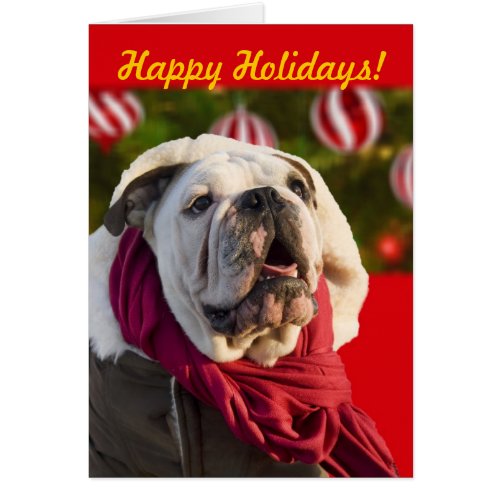 Bulldog Christmas Greeting Card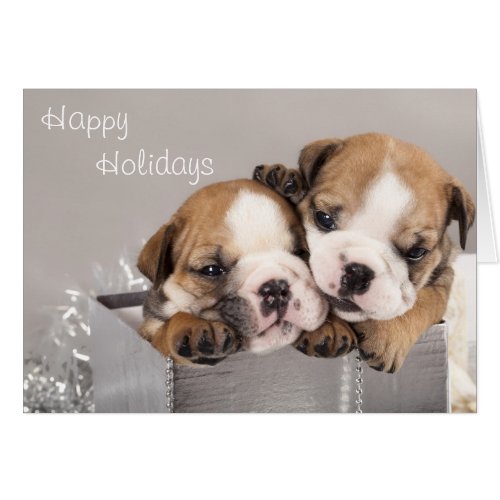 English Bulldog Puppies Xmas Card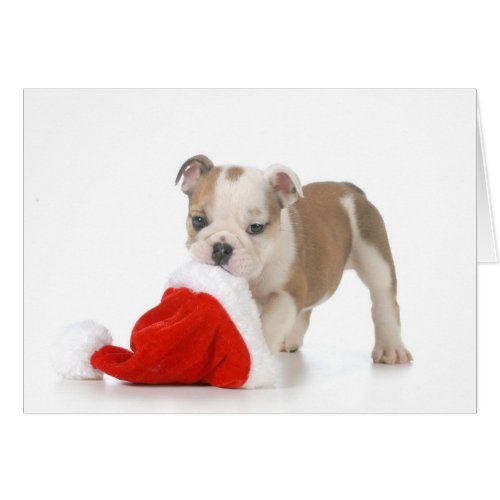 Christmas Bulldog Puppy Card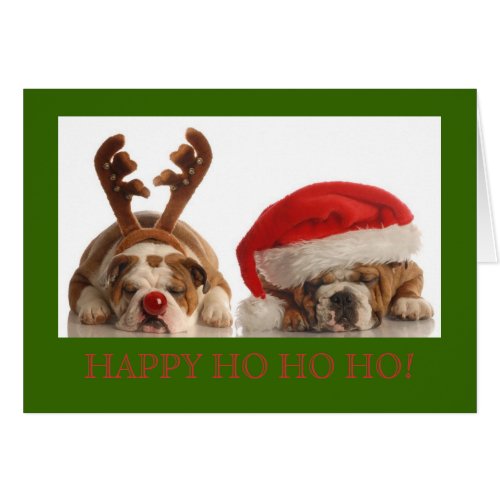 Christmas Bulldog Greeting Card

German Shepherd Christmas Cards
Alsatian Dog Christmas Cards for You
Now I must admit that German Shepherds or Alsatians are the one type of dog that I don't go all gushy over, but I know a lot of people like them so I've compiled a lovely selection of Christmas cards for you to choose from right here –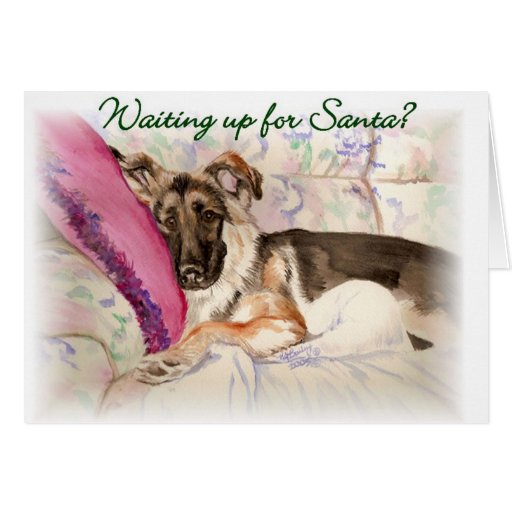 German Shepherd "Waiting Up For Santa" Card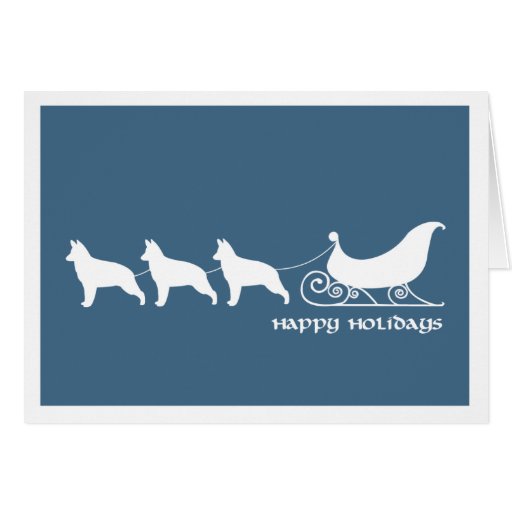 German Shepherds Pulling Santa's Sleigh Card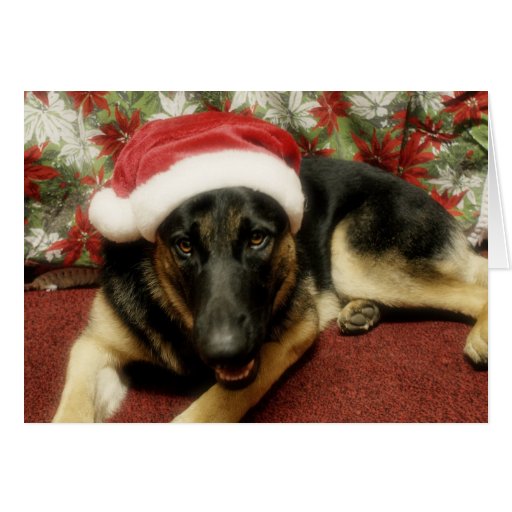 German Shepherd – Christmas Greeting Card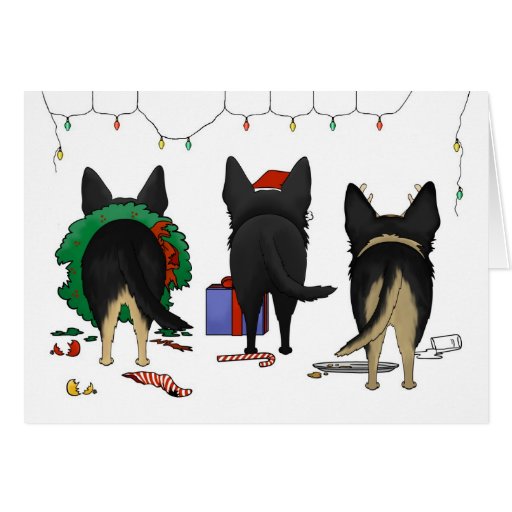 Nothin' Butt A German Shepherd Christmas Card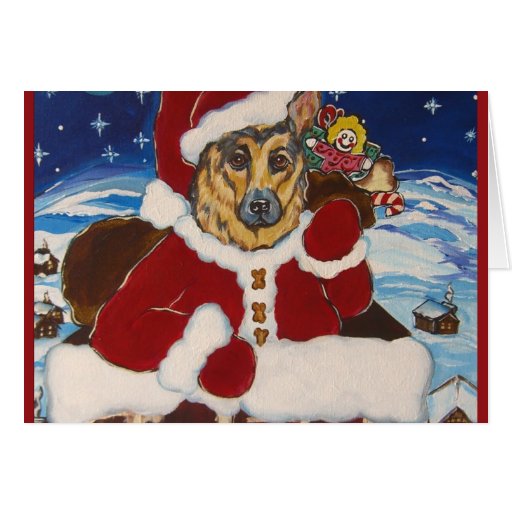 German Shepherd Santa Greeting Card

German Shepherd Dog Christmas Card

Labrador Christmas Cards
There are so many cool Lab Christmas cards from Black Labradors, Golden Retriever Labradors to Chocolate Labs that I have to create a separate page for all of the Labrador cards so if a Lab is your dog of choice be sure to check this page out –
Poodle Christmas Cards
My late grandmother absolutely loved her poodles so she would've loved to have received one of these cards ….. heck she would probably have brought a selection to send to everyone from herself, granddad and their dogs!!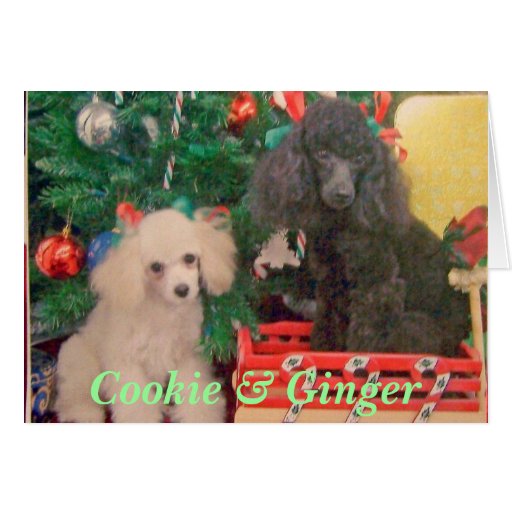 Cookie & Ginger Celebrate Christmas Greeting Card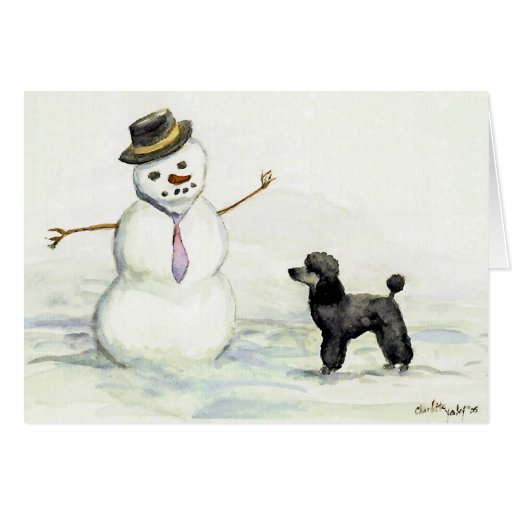 "Poodle Meets Snowman" Dog Art Card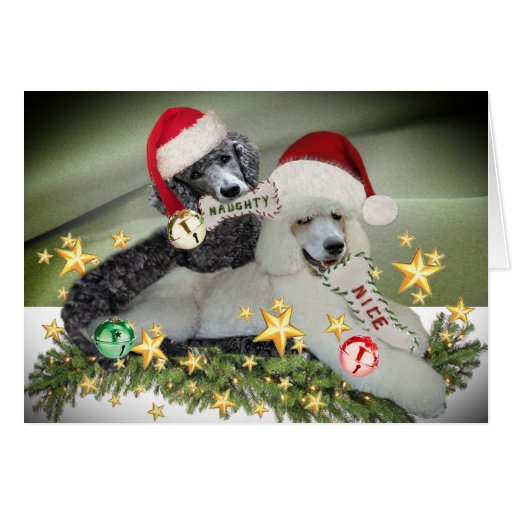 Poodle "Naughty or Nice" Christmas Card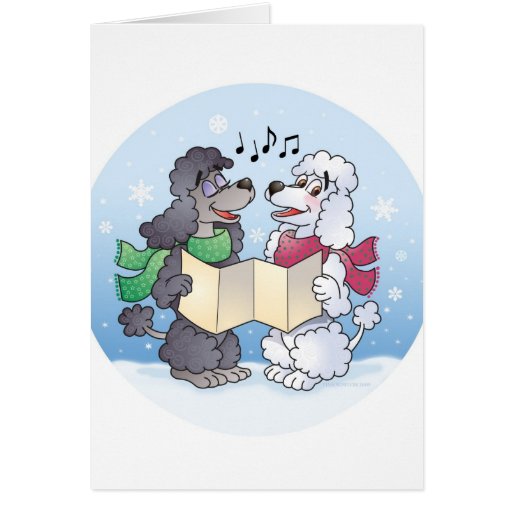 Poodles Christmas Caroling Card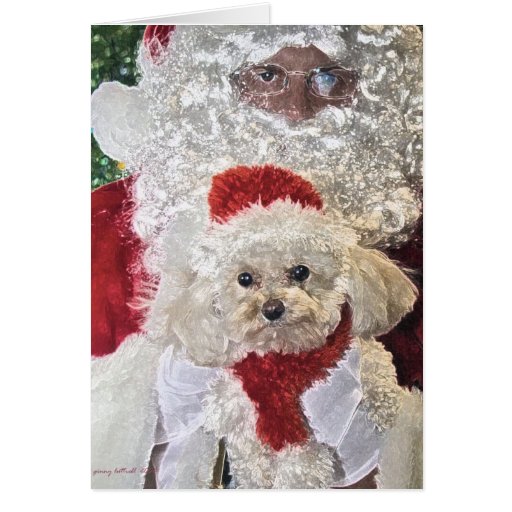 Gorgeous Santa & Poodle Christmas Card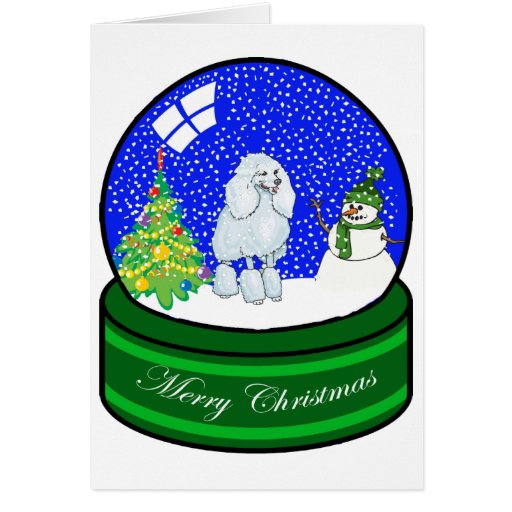 Poodle Snow Globe Christmas Card

Pug Christmas Cards
There's something delightfully adorable about pugs and they are fast becoming one of the more popular dog breeds. When you see some of these cute Pug Christmas cards you'll see why they're turning so many heads and making everyone say, "I want a pug".
Shih Tzu Christmas Cards
I like a few of these cards, but I have to say if I was forced to pick just one it would be the shih tzu in the gift box – what a beautiful looking Christmas gift.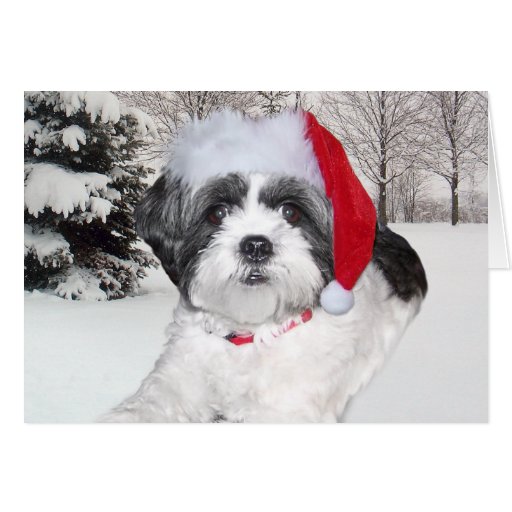 Christmas Shih Tzu Santa Holiday Card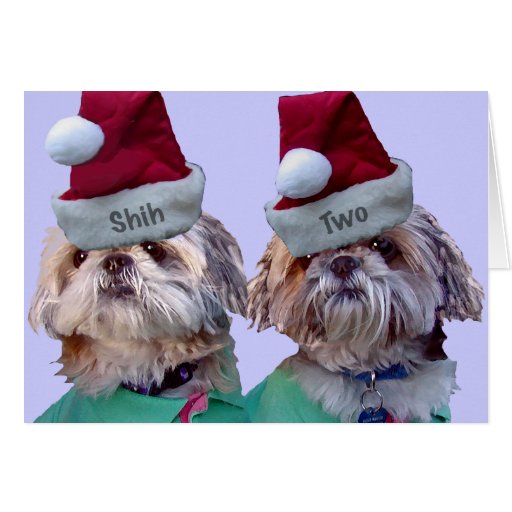 Shih Tzu -Shih Two Greeting Card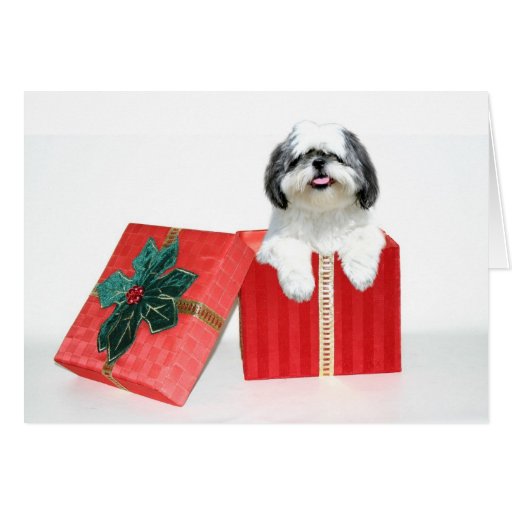 Shih Tzu Christmas Gift Greeting Card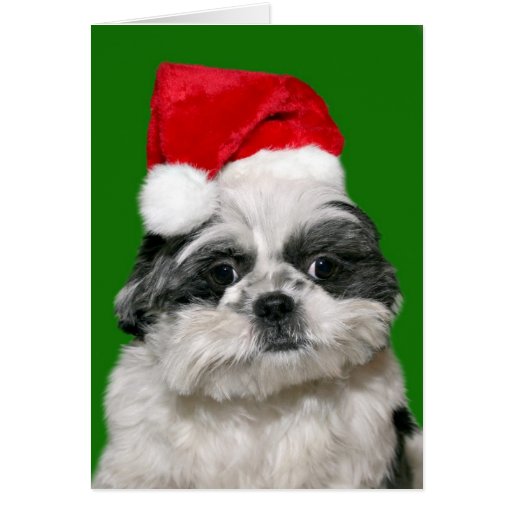 Shih Tzu in Santa Hat Christmas Card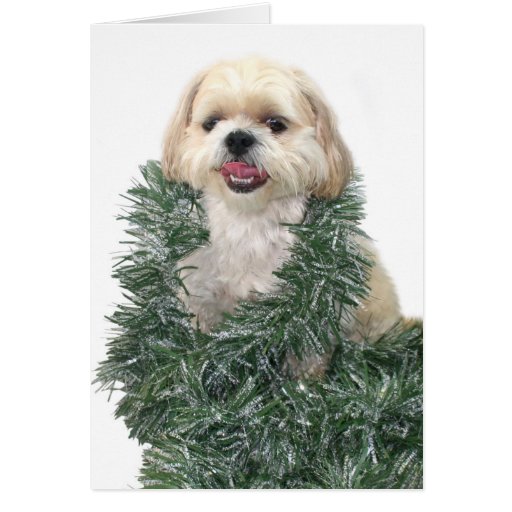 Shih Tzu in Xmas Tree Christmas Card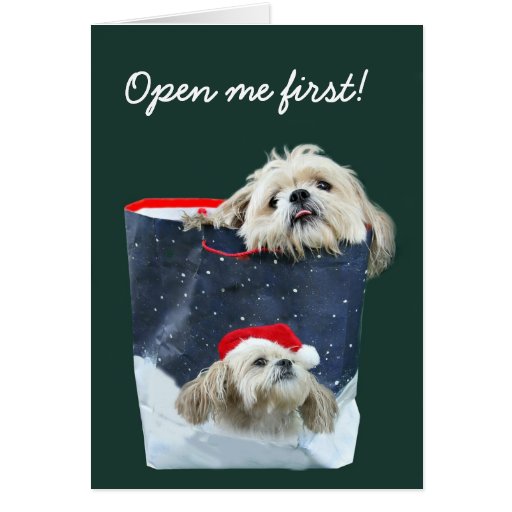 Shih Tzu Christmas Gift Greeting Card

Yorkshire Terrier Christmas Cards
One of my godmothers had a Yorkshire Terrier for years who's name was Toby and I'm sure if she'd known that these cards existed back then she would've sent them to all of us!
As far as the cuteness factor goes I would have to choose the first Christmas card featured, but if you're after a fun card then the second one made me laugh!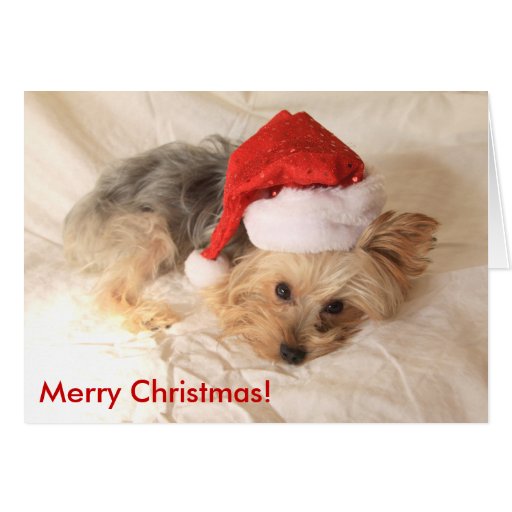 Santa Yorkshire Terrier Christmas Card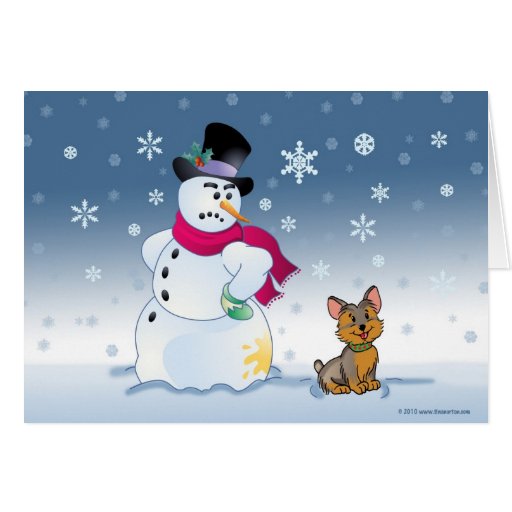 Snowman and Yorkie Christmas card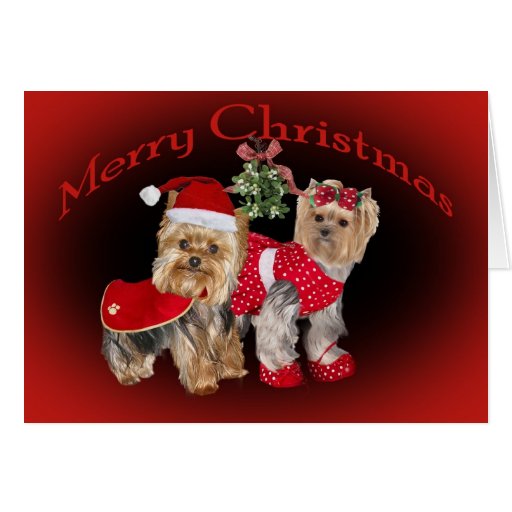 Yorkie Christmas & Mistletoe Card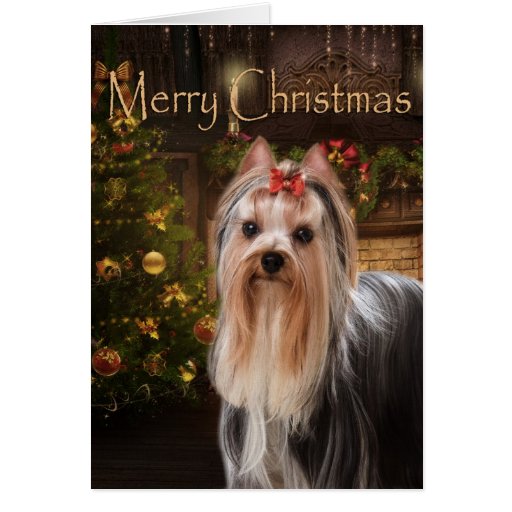 Holiday Yorkie Christmas Card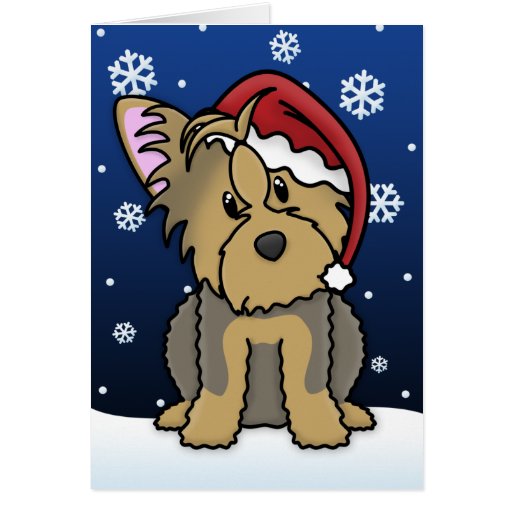 Kawaii Yorkshire Terrier Christmas Card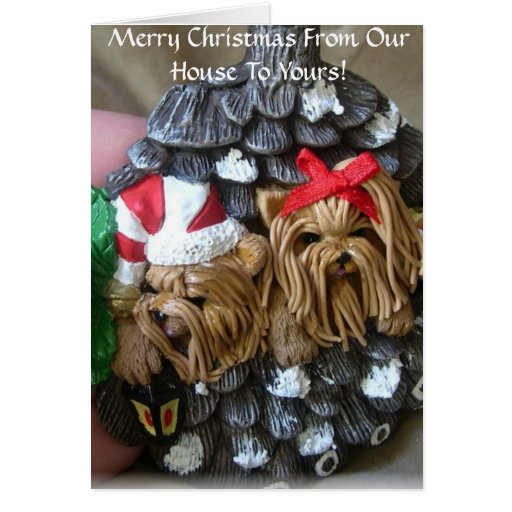 Yorkie Merry Xmas From Our House To Yours Card

You May Also Like These Posts
Dachshund Christmas Cards
Labrador Christmas Cards
Dalmatian Christmas Cards
&
Note: The author may receive a commission from purchases made using links found in this article – more information can be found on our disclosure page.