If you want to find a gorgeous Gothic Valentine's Day card quickly then I've selected five of the top cards for you to enjoy.   If you want to browse a wider selection then click right over to – Gothic Themed Valentine's Day Cards.
There's a reason why Traditional Goths are often known by the term Romantic Goths, it's because the Gothic subculture embraces the idea of eternal love.  Give a Goth red roses and some romantic poetry and they'll be very happy, so let's look at these gorgeous cards…..
Love & Roses Entwine for Valentine's Day
This greeting card embraces Gothic style calligraphy along with red roses and the word love – what's not to appreciate about it?
&
The only thing this card doesn't have is the words Happy Valentine's Day, but peeping inside the card has the word love printed alongside yet another red rose and that's what this holiday is all about isn't it?
Poe Inspired Valentine's Day Card
All love sick Goths can quote some Poe, can't they? From the American Romantic Movement Edgar Allan Poe's most famous poem is The Raven which is what makes me think this next card was inspired by him….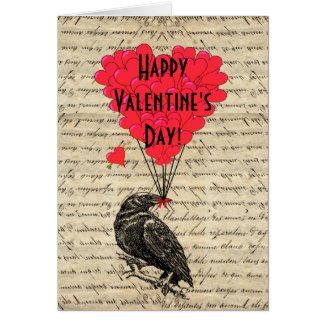 Romantic Raven Valentine's Day Card

&
I love the script in the background (the designer calls this bird a crow, but I think it looks like a raven!) and the red, heart shaped balloons add a touch of whimsy to the card which I absolutely love.
Inside it simply has the words Happy Valentine's Day printed, but this is able to be personalized before purchase so if you wanted to make an impact you could quote a few lines from a favorite Poe poem like Annabel Lee – "But we loved with a love that was more than love?" or A Valentine or even The Raven.
Love is Eternal – Valentine's Day Card
If you want to talk about eternal love then what about the eternal flame that is so nicely incorporated in this Gothic Valentine's Day Card –
Eternal Flame Gothic Valentine's Day Card

&
The use of the heavy silver mirror to reflect the eternal flame is beautiful as the mirror and candlestick holder are very Gothic in style and you could say that the card is reflecting your love to the recipient.
Rose Valentine's Day Card
This is a very simple greeting card that features the inevitable red rose, what adds to the Gothic notes on this card is the background which is reminiscent of embossed wallpaper favored by Traditional Goth culture.
The inside inscription is done in a very cool Gothic script and adds the perfect note for a deliciously dark Valentine message.
Gothic Romance Valentine's Day Card

&
Fantasy Goth Valentine's Day Card
Gothic isn't all about blackness and dark, it's a lot deeper than that and there are also a lot of different sub-cultures of Goth available. If you prefer more of a 'lighter' yet still Gothic inspired Valentine's Day card then this one is perfect for you. It's a mix between fantasy fairy art and Gothic girl art and is a beautiful way to say I love you.
&
The inside of this card is blank so you can add your own special message, whether that's a few lines from a favorite poem or a favorite song.
Gothic Quotes for Valentines Day
Sometimes the mind goes blank when you want to say the perfect thing, so here's a few quotes you can use inside your Valentine's Day card this year….
"Eventually soul mates meet, for they have the same hiding place."  Robert Brault
"I don't ask you to love me always like this, but I ask you to remember. Somewhere inside of me will always be the person I am tonight."  F. Scott Fitzgerald
"Most people want to be the sun that brightens up your day, but I'd rather be the moon that shines down on your darkest hour."  Anon
"I will not let you go into the unknown alone"  Bram Stoker
If you love this selection, please pin this page for us 🙂
Note: The author may receive a commission from purchases made using links found in this article – more information can be found on our disclosure page.
Geeky Valentine's Day Cards
Gothic Birthday Cards
Zombie Valentine's Day Cards
&