Unleash Your Inner Geek This Holiday Season – Cool Geek Inspired Christmas Cards
Forget about sending e-cards to your computer savvy friends this year – send these internet inspired Christmas cards instead. A really unique way of saying Happy Holidays is with their own personal Google Doodle or if they don't Google regularly (and doesn't everybody?) then maybe a Facebook inspired card or a Twitter inspired card would be a better idea.
I love the Google Doodles and it's always fun to see what they come up with in the lead up to (and on) Christmas day which is why I am absolutely over the moon that you can now get some of the ex-Google Doodles as Christmas cards. Google Christmas cards are the ultimate in a unique Christmas card idea that will delight all of your friends and family.
I must admit that I do know a few people who do not like Google (sad, but true) they do however have a favorite social networking site – the majority of them like Facebook and one of them favors Twitter which leads me to some other cool holiday cards – Facebook and Twitter Christmas cards – WOOT!
Google Christmas Cards
Unique Geek Inspired Christmas Cards That Will Stand Out
Although you no longer have to go to the google home page to search these days I do enjoy looking to see the latest 'Google Doodle' as there have been some really good ones over the years. Who ever was the person that decided to put these illustrations on cards is a genius and these holiday greetings are so much fun I really wish that I would get sent a few of them myself!
The 2003 Holiday Series of Google Doodles
I do love the snowman series that are featured on these cards as they combine cute snowmen (some of my favorite Christmas cards have snowmen so you could say I'm a little biased!) with the fun 'doodles'.
Google Holiday Series 2003 (1 of 5)

Google Holiday Series 2003 (2 of 5)

Google Holiday Series 2003 (3 of 5)

Google Holiday Series 2003 (4 of 5)

Google Holiday Series 2003 (5 of 5)

The 2009 Holiday Series of Google Doodles
These Google Doodle cards are a great idea as a Christmas card for a geeky friend, IT person, a WAHO (work at home online) friend or even if you are an IT or SEO company who wants to send cards to your clients.
Happy Holidays from Google 2009 1/5

Happy Holidays from Google 2009 2/5

Happy Holidays from Google 2009 3/5

Happy Holidays from Google 2009 4/5

Happy Holidays from Google 2009 5/5

Do You Remember These Google Doodles?
My daughter loves the different Google Doodles so the idea of these Christmas cards will blow her mind when I show them to her!
Father Frost's Birthday, Greeting Card

St Nicholas Day, Greeting Card

Happy Holidays from Google, Greeting Card

<
Holiday Series 2006 (1 of 5)

Holiday Series 2002 (1 of 5)

Social Networking Christmas Cards
Facebook or Twitter? You Decide
Social networking certainly seems to be taking over a big chunk of our lives so why not our Christmas cards too?
Facebook Inspired Christmas Cards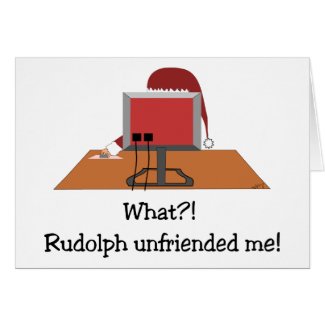 Santa Unfriended by Rudolph Funny Christmas Card

I'm sure that you have friends who seem to be permanently on Facebook, I know I have a few of them. Can you imagine their faces if they get one of these Facebook inspired Christmas cards?
I think this 'Santa being unfriended' card is funny – it was the first Facebook inspired Christmas card I had seen and even though I hadn't joined the 'Facebook crowd' at that stage it still tickled my funny bone.
I've come across a few more Facebook inspired Christmas cards since so if that one doesn't impress you maybe one of the ones below will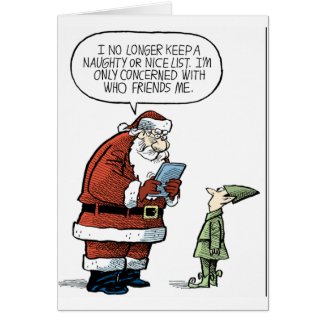 Santa Facebook Greeting Card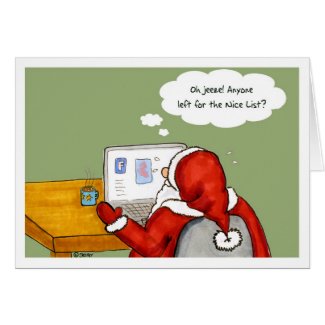 Santa on Facebook Greeting Card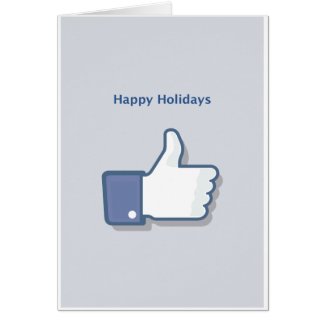 Holidays you Facebook Like Card

Twitter Inspired Christmas Cards
I Tweet You a Merry Christmas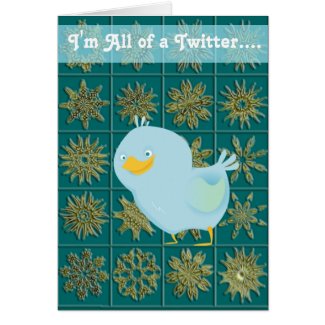 All of a Twitter Christmas Card

I actually tweet instead of using Facebook and so does my brother so a 140 character Christmas greeting could go a long way in saying '..we tweet you a Merry Christmas and a Happy New Year….#christmas #cards…'
Okay, I've now ventured into Facebook and find myself posting on there more than tweeting, but I still think that this is a cool Christmas card and is still the perfect one to send my brother!
Since I 'discovered' this cool Twitter inspired card I've come across another one with I absolutely love too, it's very retro inspired and has got me caught between the two of them as to what one I should get for the little brother – let me know your favorite in the comments below –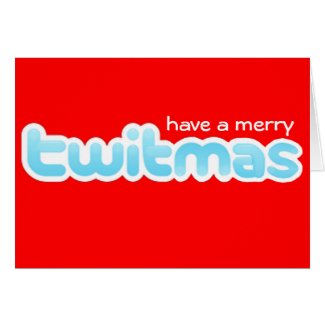 Retro Merry Twitmas Christmas Card

You May Also Enjoy These Posts
Pokemon Christmas Cards
Cat Christmas Cards
Zombie Christmas Cards
&
Note: The author may receive a commission from purchases made using links found in this article – more information can be found on our disclosure page.