Are you looking for Easter cards online? This collection of Easter Cards are sourced from Zazzle which is home to some of the best designers worldwide. From Easter greeting cards spotlighting Easter Eggs to one spotlighting the Easter Bilby these are some fun and funky Easter cards.
Think about what a happy Easter you want your friends and family to have and select a card that suits their personality, I would love one that showcases Easter eggs, but my daughter loves, loves, loves the Easter Bilby. A friend of ours really doesn't care for chocolate (I know, I know it's almost unbelievable, but it's true!), but she does have a soft spot for chicks so a Happy Easter chick card is on the list for her
Easter Eggs Easter Cards
I absolutely love chocolate so it should come as no surprise that one of my favorite Easter activity is the Easter egg hunt…..unfortunately we've started getting together with several families for Easter brunch and the Easter egg hunt is prepared for the children only 🙁
At home we can only hide the eggs inside for our daughter who then has to conduct the hunt before the dogs are allowed upstairs as they would find and demolish any evidence of them otherwise!!!
Cream Egg Easter Greetings Card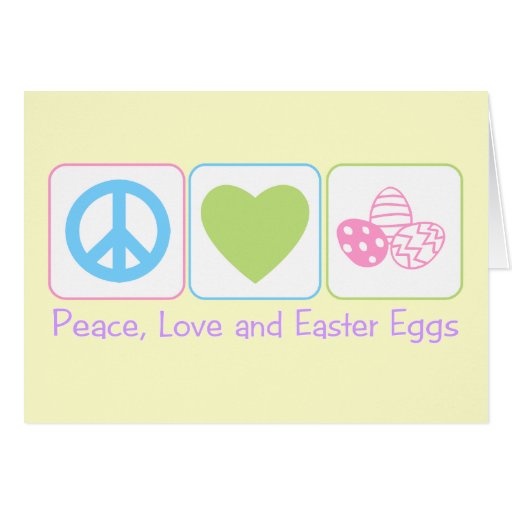 Peace Love Easter Eggs Greeting Card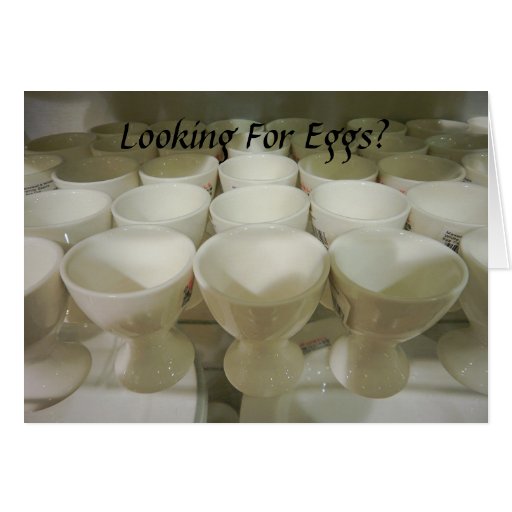 Looking For Eggs? Easter Card

Easter Eggs in a Nest Greeting Card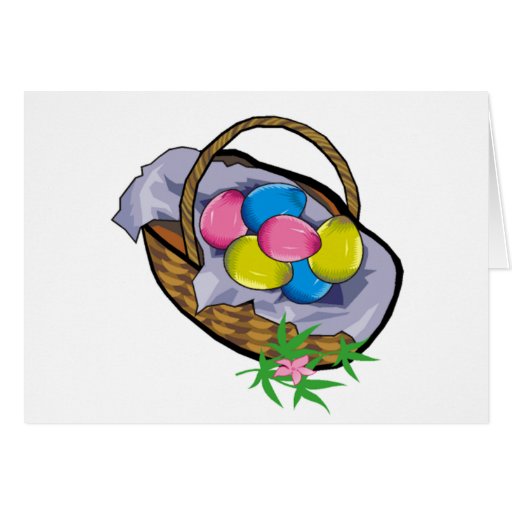 Easter Eggs in Basket Greeting Cards

Chocolate Easter Eggs & Daisies Greeting Card

Hot Cross Buns Easter Cards
I adore hot cross buns, but I'm bemused that they appear on the shelves as soon as Christmas is over and stay on the shelves past Easter almost until Christmas mince pies can take their place! In Australia they've sold chocolate hot cross buns for the last couple of years and contrary to popular belief I'm not a big fan. Don't mess with the hot cross buns!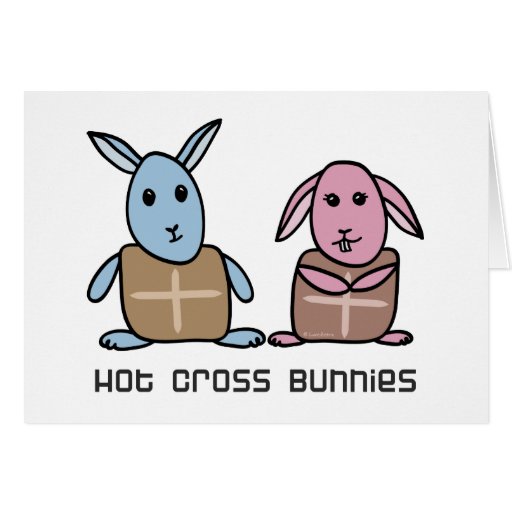 Hot Cross Bunnies Greeting Cards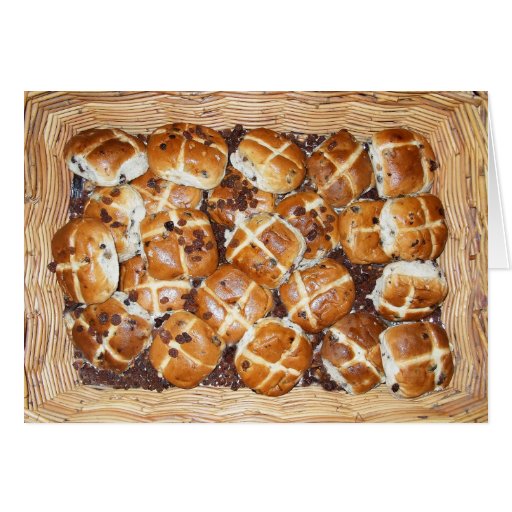 Hot Cross Buns Easter Basket #1 Cards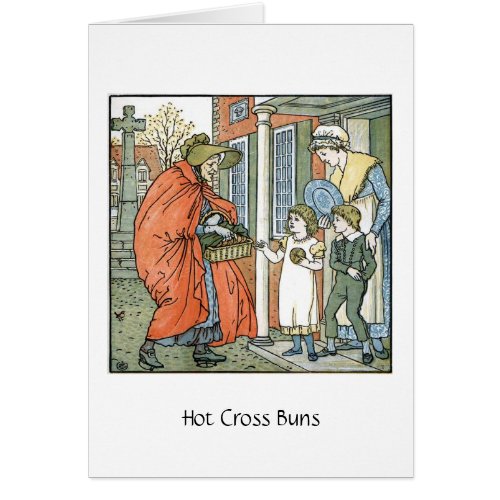 Hot Cross Buns, Greeting Card

Easter Bunny Easter Cards
A few years ago when we were living in New Zealand a friend of ours hired a bunny outfit and popped his head over the mailbox at the end of the garden (luckily they were on a large property so he was able to get away). The kids saw him and went beserk!
That was definitely a great way to start the Easter egg hunt off, although he wasn't keen to do it again the following year as his daughter had been training to see if she'd be fast enough to catch the Easter Bunny!!!
This card is probably the only way I'd be able to catch the Easter Bunny, especially after feasting on Hot Cross Buns and Easter Eggs.
Although having said that he is holding a basket of chocolate eggs so I might be able to give him a run for his money after all and I know a few little girls who can run pretty fast!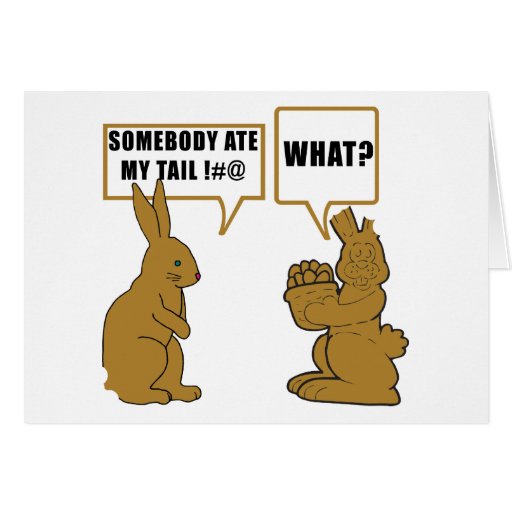 Funny Chocolate Easter Bunny Greeting Card

Happy Easter! (yellow bunny) Greeting Card

Easter Egg and White Bunny Greeting Card

Easter Bilby Christmas Card
Never heard of the Easter Bilby? Well down under in the land we call Australia, the Easter Bunny has delegated his duties to the Easter Bilby. The Bilby is native to Australia and does a great job hiding all the Easter eggs for us. Part of the reason was the sheer enormity of travelling all over the world especially with the different time zones, but a more damning reason for the delegating of duties was that bunnies are banned in some states, including ours. Hooray for the Easter Bilby!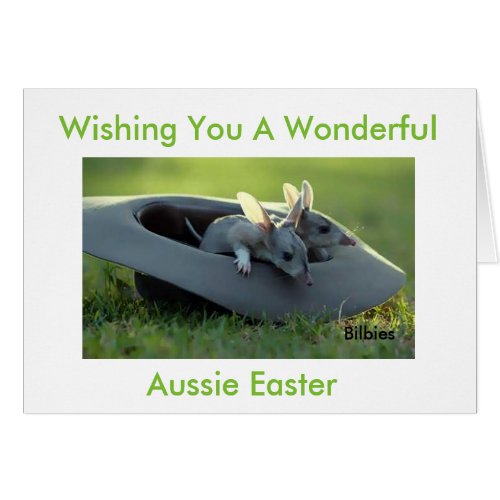 Aussie Easter Bilby Card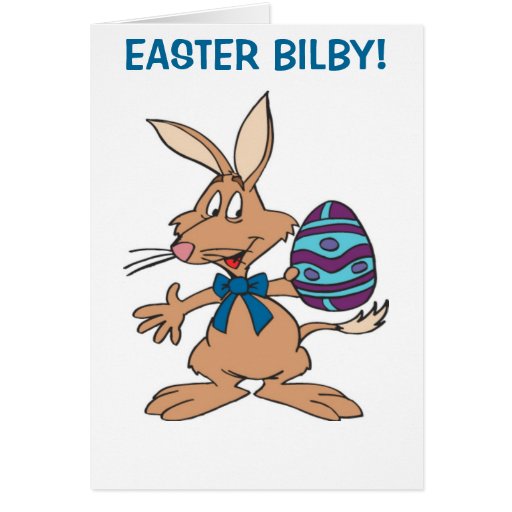 Easter Bilby Card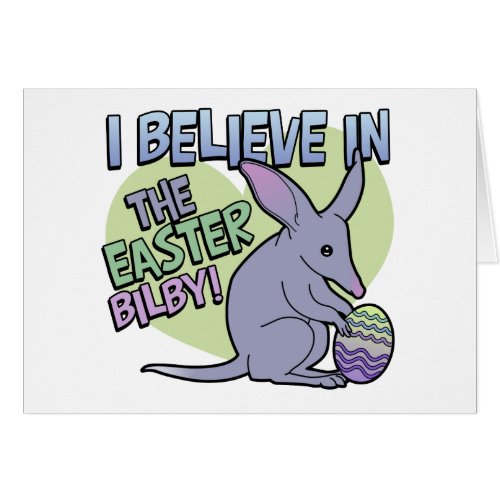 Easter Bilby Greeting Card

Easter Chicks Easter Cards
Eggs mean chicks so I guess it's hardly surprising that we associate baby chicks with Easter and use fluffy craft ones to decorate our Easter bonnets and Easter egg baskets.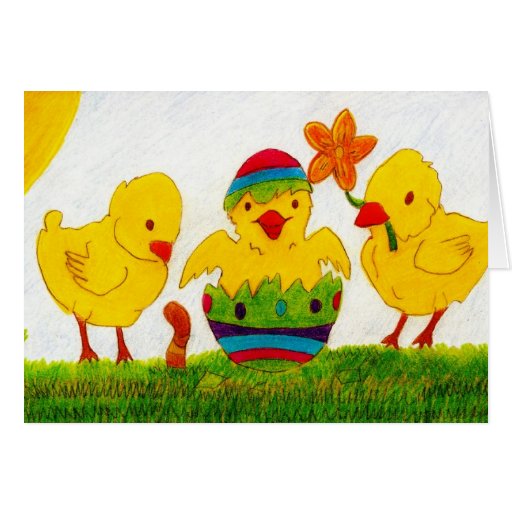 Easter Chicks Greeting Card

Chicks 'n a Easter Basket Greeting Card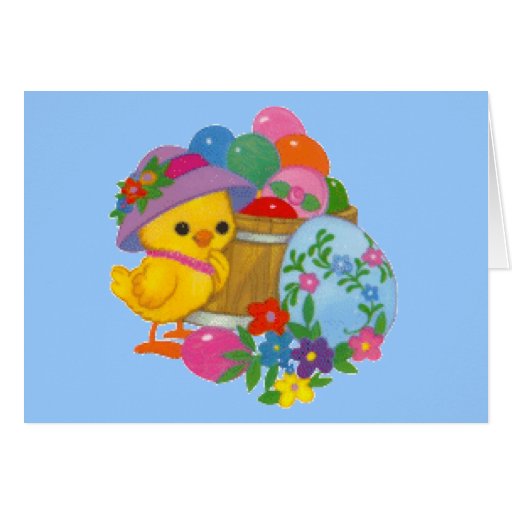 Cute Baby Chick Greeting Card

Note: The author may receive a commission from purchases made using links found in this article – more information can be found on our disclosure page.